TAKEAWAY FOOD AND DRINKS DURING TRADE RESTRICTIONS
Please call us on 0419 164 250 or 0417 055 651
----------------------------------------------------------------------------------------------------------------------------------------------------------------------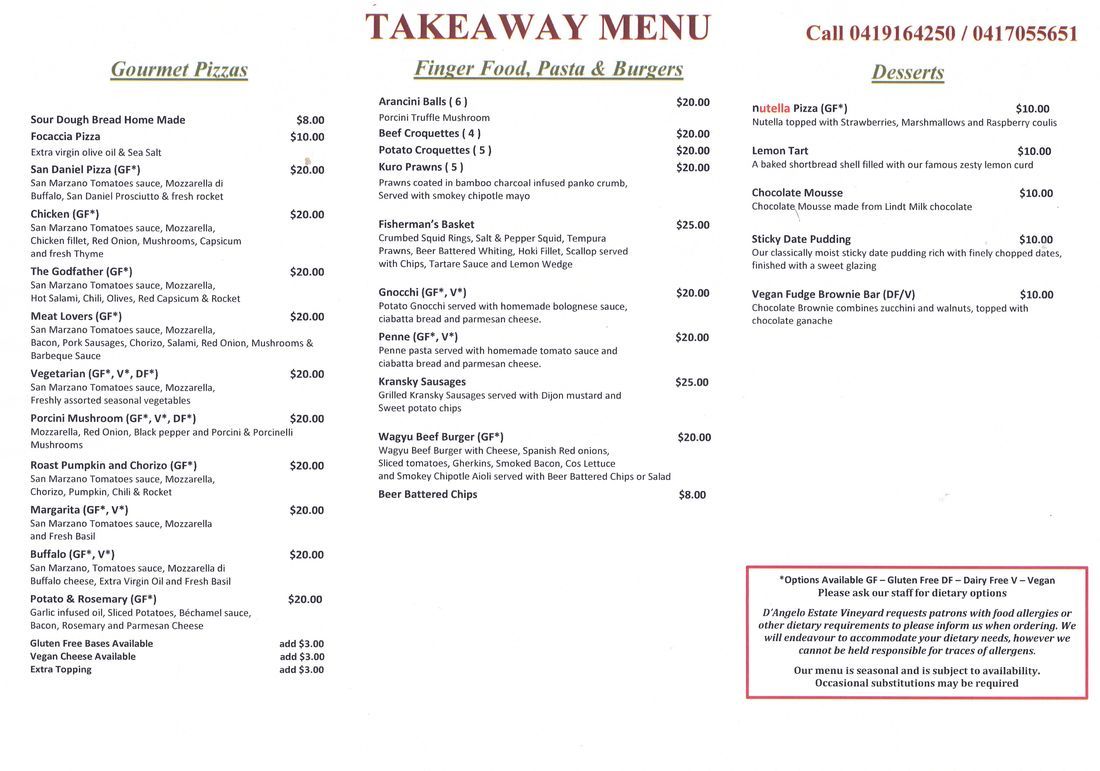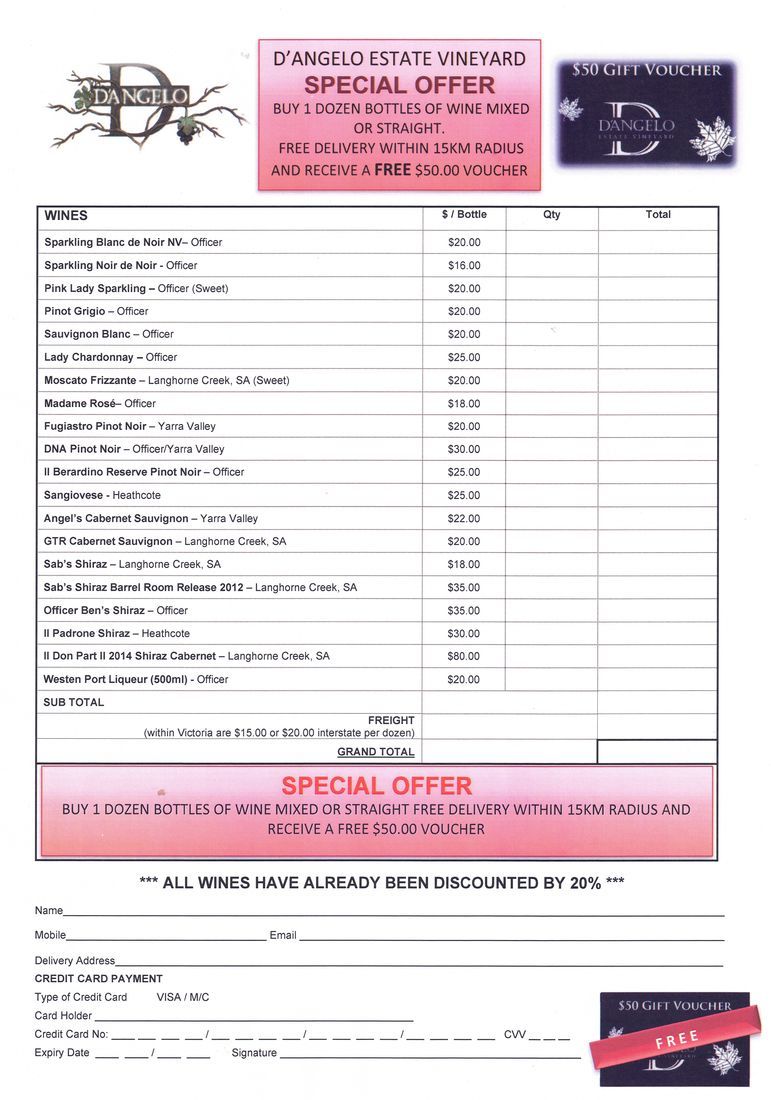 -----------------------------------------------------------------------------------------------------
Welcome to
D'Angelo Estate Vineyard & Cellar Door

D'Angelo Estate Vineyard originated in Montrose, Yarra Valley, in 1994 when Domenico D'Angelo started planting Pinot Noir grapes for himself. By 1997 the Pinot Noir grapes were ready to be harvested for the very first vintage. From the small amount of grapes that were harvested, Benny D'Angelo made the first batch of wine, two barrels in total.
After a few months Benny started to show his wine to friends in the wine industry and they were all quite impressed. He then decided to put the wine into several amateur wine shows and got some great accolades. In the meantime, Benny's father (Domenico) planted more Pinot Noir and Cabernet Sauvignon vines. From that, Domenico expanded the plantation of vines on his property to a full capacity of 7 acres in total.
In September 1999, Benny D'Angelo and his family bought 10 acres of land in Officer which faces Western Port Bay with French Island and Phillip Island in his views. Benny's first mission was to plant vines, and in January 2000 Benny planted 10 acres of vines, and the rest is history.
D'Angelo Estate Vineyard comprises of two vineyards, one in Officer and the other in Montrose, Victoria. The D'Angelo Estate Vineyard at Officer is located on the North Side of Princes Highway on the outskirt of Berwick, just 45 minutes south east of Melbourne. The topography of Officer makes an excellent site for growing cool climate varietals such as Pinot Noir, Chardonnay, Sauvignon Blanc, Pinot Grigio, Shiraz and Viognier, which is ideal for bringing out the complex flavours of all these grapes. From the Yarra Valley Vineyard, D'Angelo Estate produces Pinot Noir, Cabernet Sauvignon and Sauvignon Blanc. Both of these vineyards are family owned and are maintained by the D'Angelo family. Benny also produces Shiraz and Cabernet Sauvignon from a premium low cropping vineyard in Langhorne Creek (S.A).
Our goal at D'Angelo Estate Vineyard is to produce a premium wine that "captures the essence of life"
"Warning"
Under the Liquor Control Act Reform 1998 it is an offence
- To Supply alcohol to a person under the age of 18 years (penalty exceeds $7,000)
- For a person under the age of 18 years to purchase or receive liquor. (Penalty exceeds $500)
(Liquor Licence No. 32608286)